HOUSE DIMITRA
Vourvourou
Sithonia
Halkidiki
Zip 63078
Greece
Tel. (+30) 2375091116
Mob. (+30) 6942017185
E-mail:
MH.T.E. : 09.38.K.11.2K.01184.0.0

Activities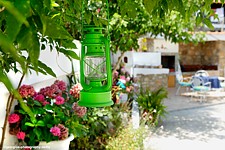 Vourvourou harmoniously combines sea and mountain. It's picturesque beaches with their crystalline and calm waters aren't just for swimming and relaxation during the whole day but are also perfect for lovers of water sports.
Situated opposite Vourvourou and a short distance from the beach is a cluster of 9 islands, with the largest being Diaporos. If you don't have your own boat, you can hire one and explore their unique fine-sanded beaches.
Also worth visiting is the small port of Ormos Panagias, from where daily cruises around Mount Athos are organised, as well as the quaint village square of Agios Nikolaos with it's traditional taverns.
Our place is an ideal spot for easy access to the area's beaches ( Livari, Xifara, Karydi, Bara, Fava, etc.) or day trips to other parts of Sithonia.